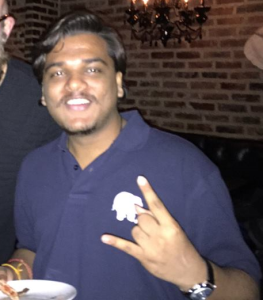 Hi , my name is Subramaniam, subbu for short. I am a graduate student in the University of  Illinois at Chicago.
I am pursuing a Master's degree in Management of Information Systems from the Department of Information & Decision Sciences.
I also have a Bachelor of Engineering degree in Computer Science from the University of  Mumbai.
I am a very affable person and love to make friends. I love to get out of my comfort zone and explore the unknown. Check out all the places in the world that I have made friends from.
My passion is decision making, I love strategy and all the important decisions that need to be taken while forming a good one. I yearn for the opportunity to exercise my intellect and really apply my self to forming strategies and solving problems. The most important aspect of making a decision is to have the right data and asking it the right questions. Without the right data and the right questions your decisions are not going to make sense nor are they justifiable. So looking at data and deriving insights from them is a very critical aspect of what I do and I love it.
I worked as an Assistant Project Manager in SMG Convonix in India for a little over two years in the field of digital marketing. Search Engine Optimization was my field of play. If you are in SEO every action that you take needs to have thorough analysis and a lot of reasoning backing it up. This naturally leads you to analyse a lot of data to come up with a decision. This is what I did for two years and this is what I cherished the most.
One of the things that motivates me the most is using technical expertise & insights to drive decisions in traditionally creative areas such as marketing.
I wanted to take my skills to the next level and also get involved in the fascinating field of data mining and hence chose do my master's degree here at UIC in Chicago. At graduate school I have taken a mixture of Analytical, Marketing and Business courses that would not only improve my analytical skills but also my business acumen allowing me to dig for insights that make sense in a business setting. This combination allows me to avoid coming up with analysis that is theoretically sound but useless in the business setting(no decision can be made).
Some of the Courses I have taken are:-
Advanced Database Management
Data Mining
Marketing Analytics
Healthcare Analytics
Statistics for Management
Operations Management
Electronic Marketing
Information Systems Strategy & Policy
Enterprise Information Infrastructure Planning & Security

If you wish to get in touch, please feel free to contact me.